Can You Find Mr.Perfect on BBW Dating Website?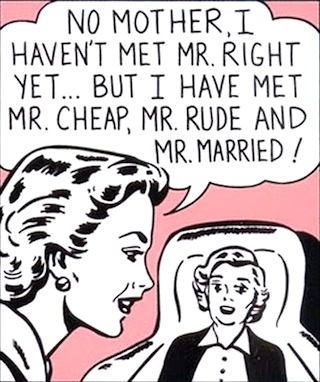 Men are often mesmerized by the beauty and allure that women have. In fact, men compose songs as their way of appreciation to women who are significant in the completion of their human life and satisfaction.
But because of the variation of beauties, classifications of women is now also on the trend. One example is SSBBW or Super-Sized Big Beautiful Women. Another one is BBBW which refers to large beautiful black women.
By then finding Mr.Right through dating sites is now easier than a woman could ever imagine. However the circumstances will vary from one person to another person, so it means that you are not exempted in the rule. Even you can experience what it has to offer. This is just the evidence that of internet's fast approach in the world that it can even change your personal lifestyle.
Interesting read & video
Dating Advice For Women: Why You Shouldn't Look For Mr. Right
So why not use these available resources? Make use of your time efficiently. Maybe this is the time to sit and relax. Grab your laptop and start searching for your Mr. The one.
So, how you'll find him with the help of BBW dating sites? It's easier then you think, just take a look at the different profiles lined up in the dating site then check it out together with their photos. There it goes. No money involves. Your extra effort plus your time will do.
Meanwhile, women tend to have unlimited list of options in choosing men to date with. Don't just settle on the circle of friends and contacts that you have. Trying something new will spice up your love life. This could be one of the reasons why girls shift on dating sites to find their special someone. Another one is the website itself makes your getting-to-know process easier than before. Before, it would take a month or even years going through this process. But on these dating sites, it would only take you an hour to scan his/her profile which includes the interest, hobbies and other lifestyle information. And most of all, you can present the best of you by making a profile that would fit his interest and attention. By then, you can put your best foot forward and make an awesome impression. Dating site would help you a lot when you have these interaction problems with other people especially when you are a shy person. This would help you build up your confidence step by step. Aside from that, it would be your way of expressing your ideas and thoughts on a date without further experiencing pressure.
To wrap it all, finding Mr.right is not a competition, so don't hurry up. Your Mr. right might just be a few centimetres from you now but you just need to wait for the right timing. Maybe, a little bit of twist is added on the book of your love story and you just need to initiate the first move. Whatever it would be, believe in yourself. You will and you can find your Mr. Right with or without the help of dating websites.